Covering Molesey, Teddington, and South West London
Miles & Bird
12 Bridge Road
Hampton Court Village
Surrey
KT8 9HA
020 3875 3875
The Property People; if you're thinking about moving, we should be talking…
June 2018
Congratulations to our friends at Hampton Court House School for organising yet another successful Summer Fête. With activities such as a fortune teller, dog show, and live music to be enjoyed, there was truly something for everyone. Once again the sun attended in full force, making this day one to be remembered for all involved. Molesey is blessed with such wonderful schools.
Hampton Court House Independent School
An independent co-educational school for boys and girls aged 3 – 18, situated in its own private parkland in East Molesey, Hampton Court.
January 2018
Preparing for Maisie's 5th birthday…  #officedogs
December 2017
The Miles & Bird team celebrated Christmas together at No. 97's gin palace.  Lots of laughing, eating, drinking, and fun!
November 2017 
We spent the latter half of November preparing for the annual Bridge Road East Molesey Christmas Winter Wander.
A great big thank you to Molesey's Rainbows for painting beautiful Gingerbread Houses for our popular window display.  Such talented girls.
Thank you also to Molesey Women's Institute who successfully sold their famous gingerbread house biscuits outside our office again this year – you know they come from a good home!  This year saw a new edition to the stalls, in the form of Hersham Village Market, selling beautiful homemade crafts.
Lastly, a big thank you to SOS!SEN, Bridge Road's charity this year, for including our office in their choir – debuté performance was at 6pm outside the Albion.
October 2017
Miles & Bird are thankful to be involved with  The Girl with the Curly Hair , a locally based social enterprise raising awareness and supporting people with Asperger's and Autism (ASD), and their loved ones, through books, workshops, and social media.
Alis Rowe, founder of The Curly Hair Project, runs workshops on subjects such as 'meltdowns & shutdowns' & 'anxiety', and we are hosting 'ASD & Sensory Processing' at our Bridge Road offices, after hours on Saturday 25th November.
Alis has also published over 20 books, and has a BBC cartoon coming out for ASD children (& their friends) for better understanding of the condition.
Michael Rosen interviewed Alis and Helen Eaton from The Curly Hair Project on Tuesday 3rd October for Radio 4
http://www.bbc.co.uk/programmes/b096hcz2.
September 2017
Volunteering at the annual Open House London architectural event, Miles & Bird worked at Geoffrey Darke's 1969 "The Darke House", Montpellier Row, Twickenham.
2017 saw Open House London celebrate its 25th year, and for the first time since its launch, every London borough participated in the event, with a record breaking 800+ properties opening their doors to the public.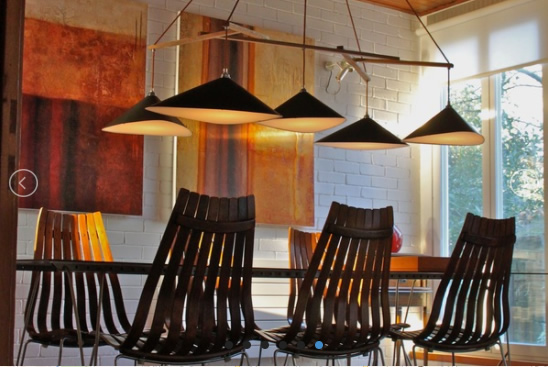 August 2017
Take a step back in time and enjoy a beautifully restored Grade II listed house with a fascinating historic connection to Hampton Court Palace.
Palace Gate House boasts an intriguing link to Hampton Court Palace dating back to the 1500's.
By 1640 it was the official residence of Thomas Smithsby, the Under House Keeper of the Palace responsible for managing operations of the Palace in all its aspects. Smithsby lived at the house until he surrendered his office in 1656 to one of Cromwell's generals after the execution of Charles I.  In the late 1600s Jasper English, a court official, gained the lease and upon his death in 1710 his son, Somersett English, was given permission to demolish and rebuild Palace Gate House. Much of the original timber frame of the house was retained and many old timbers were re-positioned in the new house, however by 1734 Somersett English applied to divide his house and was granted permission. The work involved creating a new entrance, replacing windows, creating a hallway and installing a suspended wooden floor. After the death of Somersett English Palace Gate House was leased to various tenants. In the mid 1800s Palace Gate House and the two adjacent buildings were re-amalgamated to lodge the Palace Police who had been recruited to cope with the demanding crowds following the opening of Hampton Court Palace by Queen Victoria to the public. By the turn of the century Palace Gate House was being used as part of a restaurant and tea room yet by the turn of this century the property was once again neglected.
In 2011 the current owners bought the freehold of Palace Gate House and spent a couple of years repairing the building and returning it back to a home.
July 2017
Miles & Bird proud winners of the RHS Flower Show  'Best Dressed Window' award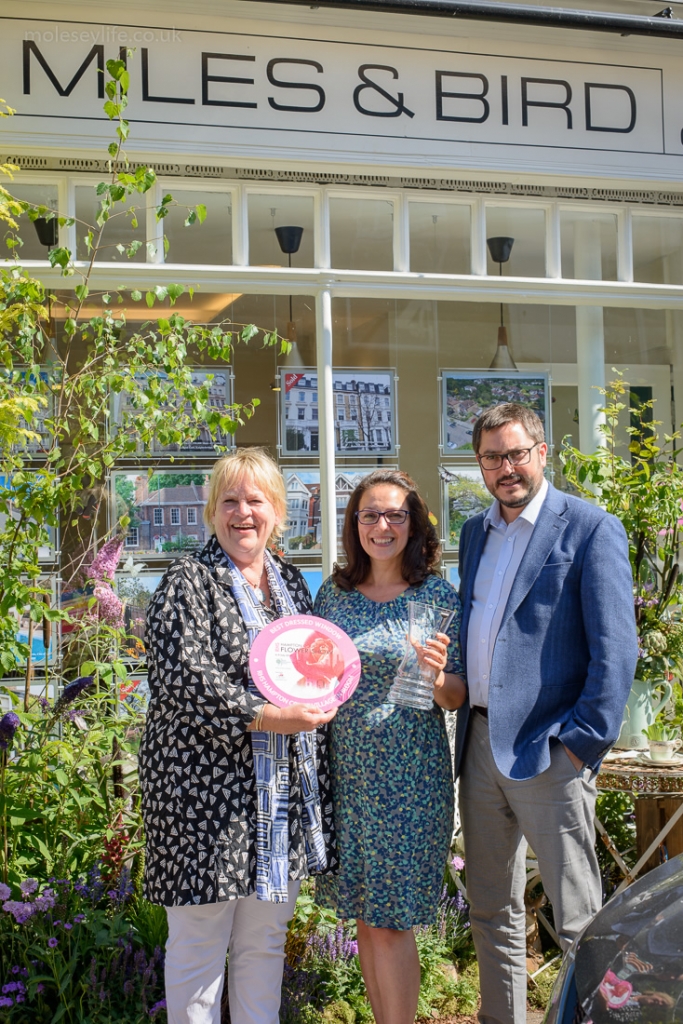 May 2017
Did you spot our boards around Teddington?  Miles & Bird are proud sponsors of Teddington School Plant Sale, Saturday 6th May 10-12.
Half and full page adverts went out in Move To property paper, on our office Open sign, in our window and in many of the shops and offices in Teddington too.
The Teddington School PTA were a pleasure to work with and there was a great turn out on the day.  Tomato plants and homemade cake all round
Please call 020 3875 3875, email info@milesandbird.co.uk, or pop in to our office 12 Bridge Road, Hampton Court Village, East Molesey, Surrey KT8 9HA, to arrange a valuation. 
April 2017
Please call 020 3875 3875, email info@milesandbird.co.uk, or pop in to our office 12 Bridge Road, Hampton Court Village, East Molesey, Surrey KT8 9HA, to arrange a valuation. 
February 2017
Please call Miles & Bird on 020 3875 3875 to discuss the Spring Market, or to arrange a Valuation
January 2017:
For sale or to let:  The Old Fire Station, East Molesey.
Miles & Bird are proud to be involved with this local Historic Landmark building of architectural importance, designated by Elmbridge as Townscape Merit.
December 2016:
As you might expect, December saw lots of seasonal fun.
The Bridge Road Winter Wander was a great success, as captured here by Milo Mulvagh Visuals' wonderful film.
Later in the month we enjoyed our Miles & Bird Office Christmas Party.

November 2016:
We've just LET 1a Lion Gate, Hampton Court Road, a wonderful flat with a private roof terrace overlooking historic Hampton Court Maze.  What an address!  What a view!
November sees the traders of Hampton Court
Village prepare for the "Bridge Road Christmas Winter Wander"
4pm+ Thursday 1st December 2016; a late night shopping evening with live reindeer, festive food, mulled wine, entertainment and song!  A date for the diary…
Given we're an estate agent, and it's a Christmas event, we've decided on a Christmas Gingerbread House theme for our office.  We've invited local school children to colour in pictures of gingerbread houses for our back-lit window display, and the Molesey Women's Institute's have very kindly offered to bake gingerbread house biscuits which can be purchased from their stall in front of Miles & Bird.
A big thank you for all the local support for the independent / family businesses of Bridge Road.
October 2016
Join us in our offices for our Estate Planning Clinic Saturdays 1st & 8th October 2016, in collaboration with Kevin Waters of EMC Asset Protection.
September 2016:
It's now almost six months since we opened our doors, and we've had a wonderful response from both our clients and new neighbours alike.
"We have had property on our books ranging in price from £265,000 to £3,000,000 (Residential Sales), £1000 PCM to £5,000 PCM (Commercial & Residential Lettings), and our properties have been geographically located from Esher, Chertsey, Shepperton, and Molesey in Surrey through Staines, Twickenham, and Teddington in Middlesex, right up to Putney in South West London. The range and scope has been amazing.
Finally, we'd also like to say a big thank you to the traders at Bridge Road  for giving us such a warm welcome and embracing us into the local community. We love working here." – The Miles & Bird Team
'Our Shepperton Property Drone Video was popular.
Miles & Bird are proud to have been rated the maximum 5 stars on Google 'Rate & Review'